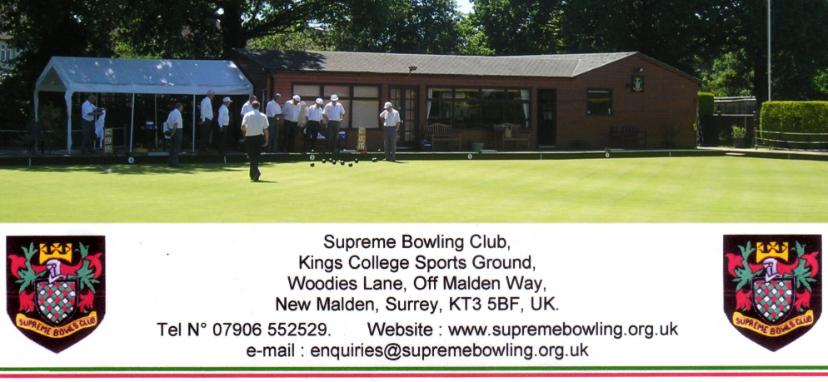 2017 Free Introductory Sessions For New Bowlers
Interested in playing bowls ? If so you are warmly invited to come along to our club to try your hand on our green. Our season will start on Saturday 22nd April, 2017, and runs through to the end of September.
This year we are again holding our free Introductory Sessions for new bowlers on the following dates :

Sunday 14th May, Saturday 20th May, Sunday 28th May, Saturday 3rd June

Sessions on these dates run from 10am to 1pm. If you can't make these dates just contact us to arrange a visit. We will try to accommodate your preferred times so just phone or e-mail us for information, or if you are passing our green just drop in to talk to us at any time. We cater for both sexes and all ages and abilities so don't be shy about coming along. Previous experience is not necessary.
We provide friendly advice, refreshments, coaching and the bowls. All you need to do is come in casual clothes and bring a pair of flat soled shoes/trainers although if you don't have a pair we have some spare bowling shoes which may fit you.

-------------------------------------------------------
Members Please Note : Match Team Sheets
Club members please note that copies of the current team selection sheets are posted at the bottom of the 'Members Page' of this website. The 'master' team sheets are posted on the Men's and Ladies notice boards in the clubhouse. Please remember to put your name on the appropriate clubhouse match team sheets when you are able to play and sign-off against your name on those team sheets. If you cannot play after being selected please ring the Captain immediately.
--------------------------------------------------------
2016 Outdoor Season Successes
We had a very successful 2016 season in the four Men's and Mixed inter-club leagues we played in as well as two inter-club competitions as follows :
* Winners of the NSBL Men's Triples League
* Winners of the Moxon's Mixed Triples League
* Winners of the Ladies double fours Past Times Competition
* Winners of the NSBL Men's double triples Ron Willson Triples Competition
* Winners Up in the K&D Fours League
However, the highlight this season was undoubtedly when our member, Dave Hill, won the Men's Surrey County Unbadged Singles competition.
Our Men also won the County Area 2 Top 4 competition and then narrowly lost the overall County Top 4 Final.
In the Men's S&DBA competitions we won the Ted Peirce Singles and were Runners-Up in the Arthur Hughes Triples.
Our Ladies again did well in the BE National competitions by reaching the National Finals stage of the Triples after being Runners-Up in the Surrey County Triples Final.

--------------------------------------------------------

2016 Indoor Jubilee Cup Competition
Once again our 'A' Team reached the Final of this double rink competition held at King Georges Field IBC. In a competitive Final we eventually lost to West Wimbledon. Our 'B' Team also did well before eventually losing their Semi Final.
---------------------------------------------------
2016 Supreme Club Competitions
Printable results sheets for the 2016 season's Club competition Finals are posted on the 'Members Page' of this website.
---------------------------------------------------------
Bowls England Rule Changes for the 2015 Season
Below is a downloadable and printable document issued by Bowls England summarising a number of rule changes applicable as from the start of the 2015 Outdoor Season. Please make sure you are familiar with them.
---------------------------------------------------------
Bowls England Rule Change in 2012

A notable rule change in 2012 as defined by the SCBA is as follows :
Portable / removable groundsheets are not acceptable for County Championships (from Prelim round onwards) or for National Competitions. Fixed mats must be used as stated in Laws of the Sports 19.1.5 - 19.1.5.5. If fixed mats are considered necessary a competitor cannot refuse to play. He will forfeit the game if he refuses.
Clarification Note : At Supreme we term groundsheets as protective nets or mats, and are used to protect the green from damage from badly delivered bowls. The groundsheets must be fixed in place along their sides by flat headed pins or nails with no / minimal projection above ground level. Groundsheets must be fixed with their rear edge at least 2 metres from the ditch and not more than 25 metres from the front ditch. Once placed, they must remain in place for the duration of the match or until we consider the risk of damage is no longer valid. The bowling mat is to be placed with its front edge just overlapping the rear edge of the groundsheet to avoid a trip risk.
--------------------------------------------------------
Bowls England & Surrey County News Bulletins
These can be viewed via links on the Members Page
-----------------------------------------------
Information Available on the Members Page
Info about the following is available :
Surrey County News
Sutton & District Competition News
Kingston & District Competition News
Bowls England Men's & Mixed Competition News
Club Umbrella Competition
Club fixture lists
Team selections for the current Men's and Ladies matches.