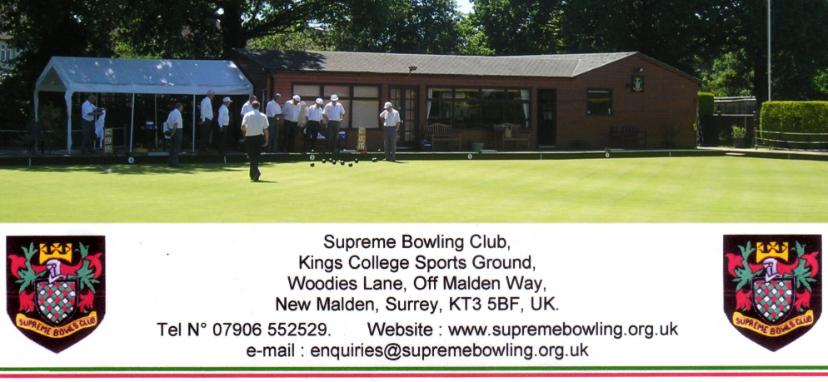 Supreme Members in the 2018 Bowls England National Finals

For a small club like ours we have had a particularly successful season in our members reaching the National Finals being held at Leamington Spa.
Margaret Brookbank and Di Double played in the victorious Surrey Ladies team in the Johns competition, and both have also reached the final stages of the ladies 2-Wood Singles.
Margaret Brookbank, Di Double, Brenda Clewley and Jacqui Waterman have reached the final stages of the ladies Senior Fours competition.
Margaret Brookbank, Di Double, Brenda Clewley, Jacqui Waterman, John Brechin, Dave Hill, Ron Brookbank and Peter Gammage have reached the final stages of the Tony Allcock Over 60's Mixed Double Rink competition (much of this same team won this competition in its inaugural year of 2011).

2018 Fullers Weekday Evening Mixed Triples League
In 2018 we will be playing in this league each match comprising 3 triples rinks. The league fixture list together with the league rules are posted on the Members Page'.

-------------------------------------------------------
Members Please Note : Match Team Sheets
Club members please note that copies of the current team selection sheets are posted at the bottom of the 'Members Page' of this website. The 'master' team sheets are posted on the Men's and Ladies notice boards in the clubhouse. Please remember to put your name on the appropriate clubhouse match team sheets when you are able to play and sign-off against your name on those team sheets. If you cannot play after being selected please ring the Captain immediately.
--------------------------------------------------------

2018 Indoor Jubilee Cup Competition
Our 'A' Team beat West Wimbledon on both rinks in the Final of this double rink competition held at King Georges Field IBC.
--------------------------------------------------------
2017 Outdoor Season Successes
We had a very successful 2017 season in three of the Men's and Mixed inter-club leagues we played in as well as one inter-club Men's competitions as follows :
* Winners of the NSBL Men's Triples League
* Winners of the NSBL Men's double triples Ron Willson Triples Competition
* Winners of the K&D Fours League
* Winners of the Men's double fours Past Times Competition
* Runners-Up in the NSBL Men's Fours League
In the Men's S&DBA private entry competitions our members won the Blesma Pairs.

---------------------------------------------------------
Bowls England Rule Change in 2012

A notable rule change in 2012 as defined by the SCBA is as follows :
Portable / removable groundsheets are not acceptable for County Championships (from Prelim round onwards) or for National Competitions. Fixed mats must be used as stated in Laws of the Sports 19.1.5 - 19.1.5.5. If fixed mats are considered necessary a competitor cannot refuse to play. He will forfeit the game if he refuses.
Clarification Note : At Supreme we term groundsheets as protective nets or mats, and are used to protect the green from damage from badly delivered bowls. The groundsheets must be fixed in place along their sides by flat headed pins or nails with no / minimal projection above ground level. Groundsheets must be fixed with their rear edge at least 2 metres from the ditch and not more than 25 metres from the front ditch. Once placed, they must remain in place for the duration of the match or until we consider the risk of damage is no longer valid. The bowling mat is to be placed with its front edge just overlapping the rear edge of the groundsheet to avoid a trip risk.
--------------------------------------------------------
Bowls England & Surrey County News Bulletins
These can be viewed via links on the Members Page
-----------------------------------------------
Information Available on the Members Page
Info about the following is available :
Surrey County News
Sutton & District Competition News
Kingston & District Competition News
Bowls England Men's & Mixed Competition News
Club Umbrella Competition
Club fixture lists
Team selections for the current Men's and Ladies matches.