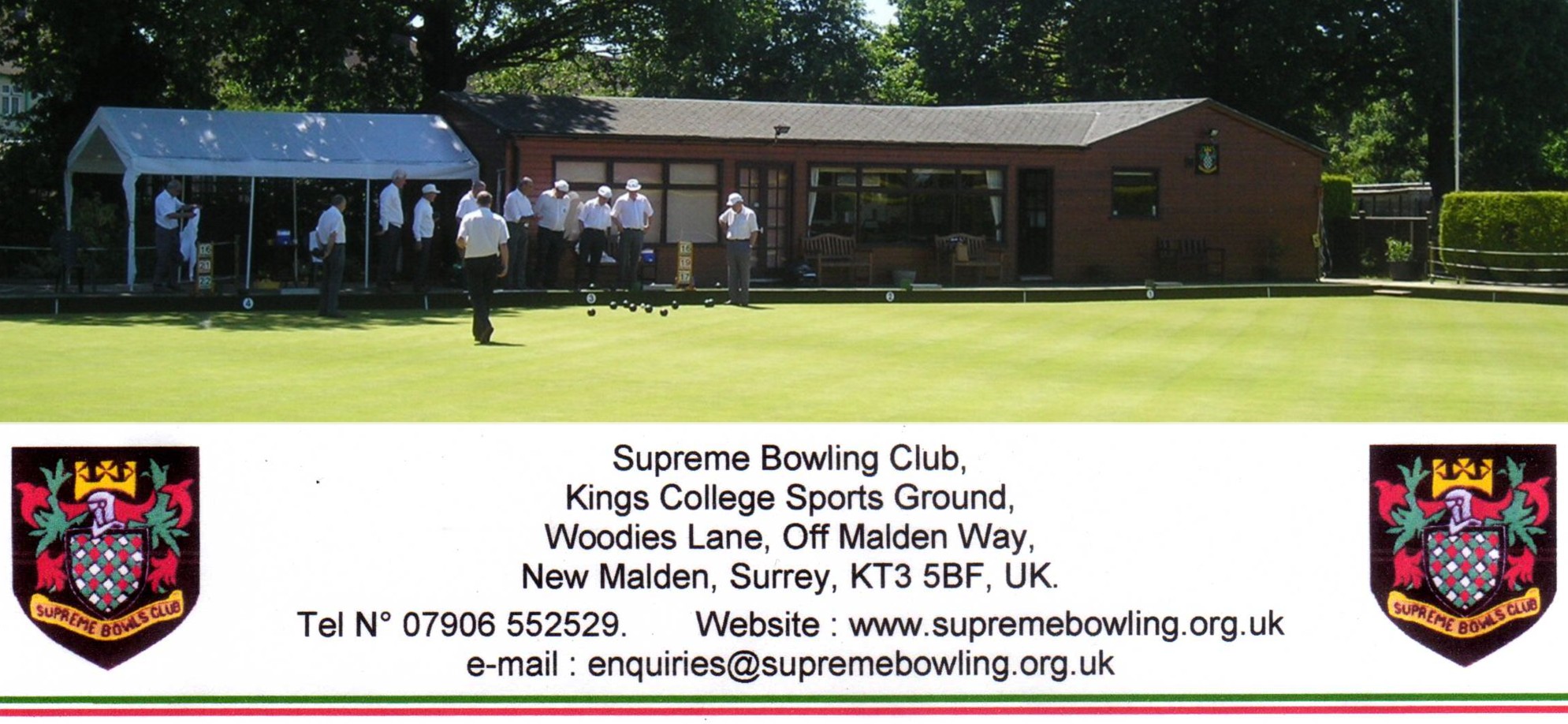 HOME PAGE
Welcome to our website
Please Note : Some documents on this website are in PDF format. If they don't open when you click on them you may need to download a copy of Adobe Reader software. Click on the following link to download a free copy of Adobe Reader:
-----------------------------------------------
2017 Free Introduction and Coaching Sessions For New Bowlers

Please see our News Page for information
-----------------------------------------------

About Us
Welcome to our website. Supreme are a friendly private outdoor lawn bowls club located on the outskirts of New Malden, Surrey, UK (see Location page).
Currently Supreme have approximately 35 men and 20 women members, and play on a 6-rink green that is generally regarded as the best in the area. We have a purpose-built clubhouse with all essential facilities, including a clubroom, food preparation area, and men's and women's changing rooms complete with toilets.
Supreme plays both competitive and friendly matches throughout the outdoor season from late April to the end of September, as well as internal and external competitions and fun drives.
During the year we have various social activities such as quiz nights, social outings, barbecues and other events.
On Wednesday evenings we hold a club night to which all our members are encouraged to attend, especially new members because it is an ideal opportunity to meet their fellow club members. Anyone with an interest in playing bowls is always welcome to come along and try their hand under the tuition of our members.
Whether you are new to bowls or an experienced bowler looking to join a friendly new club you are warmly invited to visit us for a chat or e-mail, call or write to us – please see the Joining Us, Contact Us, Location and News pages on this website.
To read an interesting history of our club please go to the Club History page.
Our local pub, Woodies, is just across the adjacent sports field selling a wide range of food and drink including an excellent range of real-ale beers.
Affiliations
Supreme are affiliated to the following bowling organisations :
Bowls England
Surrey County Bowling Association
Surrey County Women's Bowling Association
Sutton & District Bowling Association
Kingston & District Bowling Association
New Surrey Bowls League
Moxon's Bowls League